NMEATime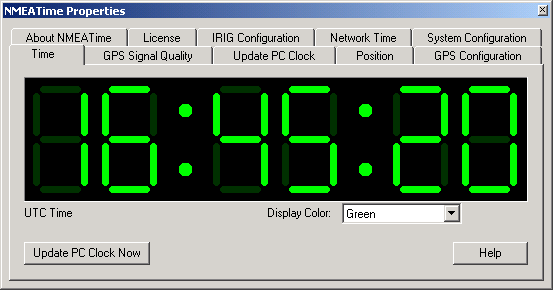 NMEATime will automatically set your PC clock using a GPS receiver connected to the serial port of a PC or to the National Institute of Standards and Technology (NIST) time servers over the Internet. Using network time or the time from a GPS receiver, NMEATime will keep your computer referenced to an atomic time standard.
| | | |
| --- | --- | --- |
| | Also included with NMEATime is a NASA type desktop clock configurable to show day of year, 24 hour time or local time, color and size. Screen Shots | |
Digital desktop time code clock - like NASA has!
Analog desktop clock
Uses GPS Time to set your PC clock
NMEA 0183 v2.20 - 3.01 compatible
Software generated IRIG-B Output (requires sound card)
Two Network time Protocols - Daytime NIST ACTS compatible and SNTP compatible
Programmable time setting rate
Selectable GPS NMEA message for time reference
Random time server select mode from an editable server list
Accepts 1 Pulse Per Second (1PPS) input in to RS-232 DSR or CTS port
BONUS SCREEN SAVER! (ClockMaze - screen shot)
Transparent Clock! See what is behind the clock (XP and Win2000 only).
For GPS time: GPS Receiver connected to a RS-232 port with NMEA 0183 output
For network time: Access to the internet
Windows 95/98, Win2000/XP, WinNT4.0 or higher with Internet Explorer 4.0 or higher
Pentium 166MHz or higher microprocessor
SVGA at least 800X600 resolution
16 megabytes of RAM
2 megabytes of disk space
One available RS-232 port (for GPS time)
Sound board for IRIG output
NMEATime decodes the following NMEA 0183 sentences:

GPGGA or GPRMC or GPZDA
GPGSA
GPGSV

Compatible with NMEA 0183 version 2.01 - 3.01
Now - A 30 evaluation is available now. Download Now
Resources
NEW PRODUCT - NMEATime2 (beta)
NMEATime2 Beta is available - try the new NMEATime2
Please note, do not run both original NMEATime and NMEATime2 beta at the same time